Keep Fit Ceildh
10/07/2021 @ 7:30 pm

-

10:30 pm
Keeping Up Traditions with Our Keep Fit Ceildh
As part of the now annual Twelfth Festival which we run in the week up to the Twelfth one of the highlights has become the Ceildh Dance. It has proven a hit with all ages and abilities, from the seasoned highland flinger to the near novice. It has been hosted in church halls, orange halls and hotels as hundreds of people have learn traditional Scottish dancing and enjoyed a great  nights fun.
This year with restrictions and social distancing we sadly cannot organise the event we had planned but instead we have taken the music, the moves and as much of the events of previous years and working with some of our Ceildh experts have provided a great Ceildh experience you can enjoy at home.
At this time when we are all trying to get enough exercise without gyms and organised sports this is perfect. We know exercise boosts our immunity, lifts our spirits and helps to keep us healthy.  During difficult times dealing with COVID 19 we would like to thank the folks at Highland Hustle for providing some FREE resources for you to use at home.
As part of their efforts to get the nation back on their its feet they have released this video to encourage us all.
FIGHT SON, LOW IMPACT ROUTINE:
Originally filmed to reach out to a member who could not attend Highland Hustle due to serious ill health in 2019 but may be welcomed by some on the recovery from illness with an uplifting song!  This track may also be particularly suitable for the elderly.
Many of the routines on their website are aimed towards the less mobile or perhaps elderly. A very gentle routine which could be done sitting in a chair.  For example, during the movement to the side just 'march' the feet on the spot from a chair.
For the younger dancers we have included this fun game to play and keep active.
Highland Hustle Snakes and Ladder Challenge!
Who is going to be the first to finish the board game in your house?  Don't worry if you don't all know the moves … we have provided some short videos below with adaptions of movements so the whole family can learn and join in!  Or, if you are the dancer in the family why not become teacher for the rest of you and have some fun!
Remember to warm up for a few minutes before you take part!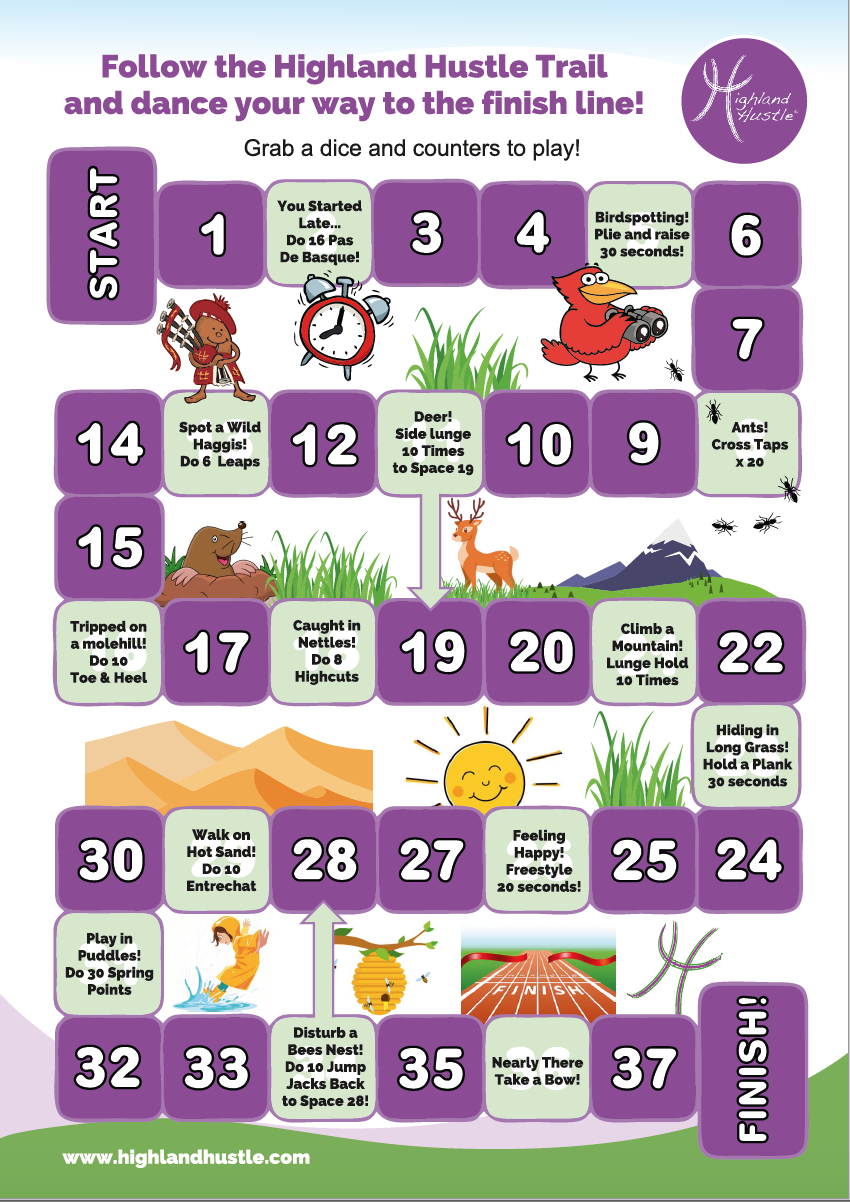 A Sample of the Beginners Sessions
LEARN BASIC PDB, H'CUT, SPRING POINTS & TOE AND HEEL
Details
Date:

10/07/2021

Time:

7:30 pm - 10:30 pm

Event Category:
Venue
Virtual Twelfth Website

Website:
Organiser
Highland Hustle

Website: